Departmental Intent:
Design & Technology is an inspiring, creative and practical subject at St Antony's. Pupils design and make products using their imagination and inspiration from a range of designers and design movements and contexts, considering their own and others' needs, wants and values. They acquire a broad range of subject knowledge across Food, Graphics, Resistant Materials and Textiles, drawing on disciplines such as mathematics, computing and art. Pupils learn how to become resourceful, innovative and enterprising citizens. Through the evaluation of past and present design and technology, they develop critical understanding of its impact on daily life and the wider world. The main features of the Design & Technology curriculum are as follows:
In D&T, the knowledge and skills developed from the curriculum offering, ensure that students have a balanced experience of contextual, design and practical skills across a range of materials areas. Design & Technology encompasses four subject areas: Food & Nutrition, Graphics, Resistant Materials and Textiles. All subject areas contribute heavily to adult life and this is considered in the day to day delivery of the curriculum.
By the end of KS3 pupils will have a range of skills and knowledge demonstrated through a wide variety of practical work that addresses each of the National Curriculum statements. In addition, pupils are expected to demonstrate competency through 'Design' (producing innovative ideas), 'Make' (using equipment and materials), 'Evaluate' (impact on the world today) and 'Technical Knowledge' (understanding how technical solutions are reached).
Each subject area within D&T is planned using a vertical model. This ensures that long term retrieval practice from year to year is achievable and can be built upon with each phase of KS3 with the aim for pupils to know more and remember more. In 2021-22 technology 'drop down' days will be trialled. These are designed to enable additional themes and processes to be explored, with lessons delivered simultaneously by all teachers.
To address potential knowledge gaps arising from KS2 and more recently as a result of the pandemic, we offer a bespoke curriculum that is designed specifically for St Antony's students. The foundation for learning at KS3 begins with an introduction to each materials area, familiarising pupils with safe working practices, equipment and tools. This is expanded upon year on year through the vertical model, through increased challenge, technical skill and introduction of new practices. This introductory approach is ideal for St Antony's students as it maximises the potential of all groups including HAP / LAP / DP & SEND.
We offer four main specialisms, each with specialist rooms and equipment. Learning takes place through a range of investigation, design and make activities that are delivered through contextual projects. Furthermore, learning is consolidated into A3 design sheets that chunk learning into short segments. In response to the pandemic, this has helped to limit disruption to learning as work can be provided for pupils working outside of the classroom, and ensure that those that have missed learning time can quickly phase back in.
The breadth of subjects offered in KS3 and KS4 illustrates our commitment to high ambitions for our pupils in academic, vocational and technical qualifications. From the outset, preparation begins further education, training and employment in vocational and technical fields. Our suite of KS4 options currently includes 4 GCSE subject specialisms and an OCR Cambridge National. Graphics and Textiles are offered under the GCSE Art, Craft & Design specification to maximise the personalisation of the learning experience for our pupils. All pupils are invited to opt for the subjects offered, and year on year we welcome many students with SEND, who enjoy the same broad curriculum as their peers.
Department Information:
Design & Technology is taught within the Art, Design & Technology department. There are four very experienced D&T teachers who are forward-thinking and passionate about their specialist subjects. Each area is housed in a specialist room furnished with materials and equipment to deliver a modern curriculum. We currently offer Food, Graphics, Resistant Materials and Textiles at KS3, with the addition of Engineering as a KS4 option. We are supported by a full-time technician, and are fortunate to have laser cutting, sublimation printing and vinyl cutting facilities. We use professional CAD software including the Adobe suite and Techsoft 2D Design.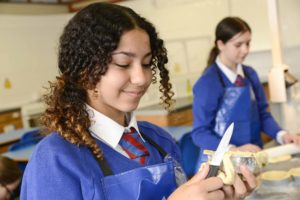 At KS3 students are introduced to D&T through a rotation system, (a model that most schools use) to enable them to get a snapshot of a range of skills and knowledge in the technologies. This affords each child with 9-12 weeks to complete a project in each materials area. Research, design and theory-based work is completed in project booklets that are tailor made by our teachers for the students of St Antony's. They are frequently reviewed, adapted and updated in response to new technologies, opportunities and in line with the ever-changing world of design.
At KS4 we offer a suite of subjects including Engineering Design, Food Preparation and Nutrition, Graphic Communication and Textiles. We recognise the importance of practical skills and have designed our curriculum to best meet the needs of our students and to maximise on the facilities we have available.
Curriculum Enhancement:
Websites, Trips and Visits
www.tate.org.uk
www.britishmuseum.org
www.designmuseum.org
Extra Curricular Activities
Regular booster sessions are run after school for GCSE students to continue with their portfolio and allow additional use of specialist equipment and materials.
 Trips
The Art, Design & Technology Department organises trips for students at KS4 relating to specific projects. We have introduced a day trip to London, visiting the V&A museum and the Tate Modern.
Each year GCSE students visit the Art & Design Degree Show of Manchester Metropolitan University to gain an insight into the opportunities in our locality to enable them to pursue Design & Technology further.
Academic Reading with links to this curriculum area's learning can be found here.
Recipes:
Fruit crumble and creme anglais
Leek and potato soup and soda bread.