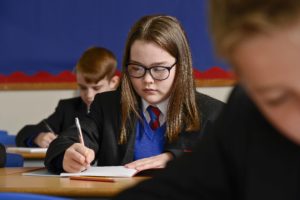 Departmental Intent:
At St Antony's Roman Catholic School, a high-quality education in English will teach pupils to speak and write fluently and confidently so that they can communicate their ideas, viewpoints and emotions to others, and, through their reading and listening, so that others can communicate with them. Learning in English will also promote high standards of language and literacy by equipping pupils with a strong command of the spoken and written word, and will develop their love of literature through widespread reading for enjoyment. Pupils will also be exposed to challenging texts which make them think and which will enhance their formation as young adults, culturally, emotionally, intellectually, socially and spiritually. The main features of the English curriculum are as follows:
At St Antony's, the curriculum has been constructed in accordance with the National Curriculum and with an awareness that pupils need to develop such knowledge and skills because they are of intrinsic value in terms of happiness and success in later life. Being able to read and communicate clearly are a cornerstone of fulfilling employment and relationships, and, as such, are fundamentally important in overcoming social disadvantage.
In KS3, we give pupils a broad experience of a wide range of fiction and non-fiction texts, ones which are increasingly linguistically and thematically challenging as they progress. We develop each pupil's capacity as a critical reader, and we develop each pupil's writing skills. We consolidate and build on their knowledge of grammar and vocabulary from KS2. We also teach pupils to be confident and effective speakers. We demonstrate ambition for all pupils, including disadvantaged pupils and pupils with SEND. In KS4, this intent is sustained as we prepare our pupils thoroughly for their GCSE examinations.
The curriculum is planned and sequenced so that new knowledge and skills build on what has already been taught but also so that, in appropriate ways, pupils are prepared for what lies ahead in their learning journeys. How learning spirals up from year to year is carefully considered, as well as how knowledge and skills are developing from term to term within a year. This enables pupils to know more and remember more.
The curriculum addresses typical gaps and common misconceptions in pupils' knowledge and skills; it takes into consideration what has been taught previously and carefully consolidates as required. The curriculum is regularly reviewed and has been adapted to address delays and gaps in learning that have arisen as a result of the pandemic.
The English curriculum offers a three-year KS3 with broad coverage of the National Curriculum. Our policy is to enter all students for both English Language and English Literature at GCSE.
In English, there is consistently high academic ambition for all pupils, including pupils with SEND and there is a strong focus on accessibility to texts in order to allow pupils to learn well in the subject; there is no 'diminished diet'.
Department Information:
Curriculum Enhancement: 
When the opportunity arises at local theatres, we organise trips to see the plays that we study, particularly at GCSE.
Various staff work to support some students to make progress and become more confident in their English/Literacy skills. 
Academic Reading with links to this curriculum area's learning can be found here.
Ahead of major examination dates, the department runs before/after school revision sessions to assist learners in their preparation for examinations. In these sessions, students practise those skills which will be required for the writing exam; they hone their analytical skills for the media/non-fiction paper; they revise set texts and poems; and they also focus on how to write essays effectively. We also offer Walking Talking Mocks in the run up to final exams in May/June. Revision guides for all set texts can be purchased through school at a reduced rate (usually in the Autumn Term).
Websites:
https://app.bedrocklearning.org
https://members.gcsepod.com/login
http://www.bbcbitesize.co.uk
www.shakespearehigh.com/library/surfbard/index.htm
www.bbc.co.uk/skillswise/words/grammar/
www.online-literature.com
www.universalteacher.org.uk