Departmental Intent:
At St Antony's Roman Catholic School, a high-quality education in French and Spanish will promote a curiosity of languages and will deepen students understanding of the world around them.  Pupils will be able to express their ideas and thoughts in the languages they study and be able to understand and respond to speakers both in speech and writing.  It will also provide opportunities for them to communicate for practical purposes, learn new ways of thinking and read authentic texts. Language teaching provides the foundation for further language learning, equipping pupils with important skills to continue their studies. The main features of the MFL curriculum are as follows:
Studying a language allows pupils to develop their knowledge of different cultures from around the world and develop confidence in all areas of communication. Pupils will study a range of topics at KS3 taken from the National Curriculum.  Their study will focus on the four main skill areas; listening, speaking, reading and writing.  By developing these four skills, pupils are able to demonstrate that they know more and remember more. The KS4 syllabus covers all essential knowledge and skills as outlined on the NC. This includes the four key skill areas of listening, speaking, reading and writing. At KS4 we will introduce a variety of GCSE skills and topics taught at KS3 are covered in much greater depth.
In KS3, pupils cover topics that will allow them to communicate with native speakers. Many of the topics covered from the National Curriculum allow students to narrate events and give justified opinions so that students can express themselves. We develop pupil's literacy through teaching reading and writing techniques and we draw on pupils understanding of grammar in their first language to build their grammatical understanding in the target language. In KS4, this intent is sustained as we prepare our pupils thoroughly for their GCSE examinations.  Pupils are taught to express themselves confidently for different purposes.
Beginning in Year 7, and taking KS2 prior learning into account, pupils focus on the basic skills for communication with an emphasis on vocabulary. This leads to the development of sentences and more complex sentence structure. During Year 8 more grammar is introduced with the addition of past and present tenses. By Year 9, previous sequencing enables pupils to develop earlier learning by increasing understanding of how language works and how to manipulate language. As pupils enter KS4, they begin with a strong foundation of grammatical content which allows them to focus on all four skill areas of listening, speaking, reading and writing.
Year 7 pupils arrive at St Antony's with varying language-based skills. This, coupled with lost learning during the pandemic, has led to the development of a curriculum which seeks to build confidence at KS3 and address literacy skills. To enable all pupils, including disadvantaged and those with SEND, to access a language, differentiation is placed at the heart of curriculum delivery.
We are ambitious for all of our pupils and put steps in place to ensure they all achieve their potential and subsequently, we have a three-year KS3. Languages as a GCSE option is offered to all pupils to allow them all the opportunity to gain the EBacc
When choosing options pupils are strongly encouraged to take a language as an option. We ensure that all classes cover the full curriculum at KS3 to allow them to continue their studies.  We organise events throughout the year to celebrate and raise the profile of languages including language career events organised with local universities.
Department Information:
At the end of September, the department organises cultural activities to celebrate the European Day of Languages. Throughout the week, pupils are offered different European food at the canteen and they also take part in cultural quizzes. Year 8 take part in a European day event where we highlight the importance of using different languages and raise cultural awareness. This has been a very enjoyable and enriching experience in the past few years.
The French department offers a trip to France - usually during May or Easter half term to offer pupils the opportunity to experience French culture and language "hands-on".
Revision sessions - for KS4 pupils revision sessions are planned and scheduled throughout the year.  Revision booster timetables are sent home to parents of relevant classes.
Educational visits - the school have strong links with MMU and Manchester University and attend the various language enrichment events that take place throughout the year.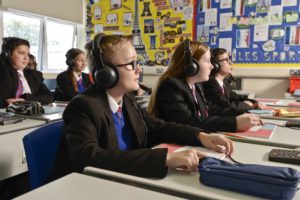 Facilities:
A digital language Lab
All languages classrooms have an interactive whiteboard and listening devices.
Access to digital text books for students to work from home.
Subscription to GSCEPOD and KERBOODLE for GCSE classes.