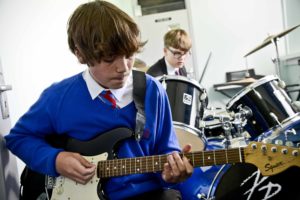 Departmental Intent:
Music is a universal language and one of the highest forms of creativity.  The Music Department at St Antony's Roman Catholic School aims to engage and inspire pupils to develop a love of music and their talent as musicians, and so increase their self-confidence, creativity and sense of achievement.  As pupils progress in the subject they will develop a critical engagement with music, allowing them to compose, perform and listen to music across a range of historical periods, genres, styles and traditions. The main features of the Music curriculum are as follows:
At St. Antony's all students receive an in-depth music education throughout KS3, which allows them to develop the knowledge and skills required to take advantage of future opportunities and experiences throughout education and in later life. The curriculum has been constructed in the light of the National Curriculum.
By the end of KS3, students will have experienced a wide range of musical genres throughout history. These experiences will enable students to demonstrate their knowledge and skills either through composition, performance or evaluation. Performance is a large part of the curriculum which helps to develop confidence within music as well as other subject areas.
Beginning in Y7, the curriculum is sequenced so that all students at KS3 will study the key knowledge and skills involved in performing, composing, listening and evaluating music. Students begin with studying the basics of music theory and performance through topics such as; 'The Instruments of the Orchestra' and 'Rhythm and Notation' whilst evaluating relevant music from the great composers. Over the course of KS3, pupils will study knowledge and skills in greater depth e.g. performing simple melodies in Y7 through to more complex melodies and chords in Y9. At KS4, pupils focus on performing, composing and appraising.
Pupils are assessed in Music early in Y7 to determine the level of knowledge which may or may not be present based on KS2. In the Music department, the programme of study allows students to discover and explore musical cultures in the world around them, both locally and globally. We offer a safe environment for all of our students for them to enquire and learn about matters and other cultures which contributes to their holistic care. Gaps in knowledge which have arisen due to the pandemic are considered when planning our students musical learning journey.
The three-year KS3 at St. Antony's enables students to access 1 hour of curriculum music lessons per week. Students access 5 topics per academic year, this provides a sufficient timescale for students to engage fully with the National Curriculum.
We have high ambitions for our students regardless of ability. This includes disadvantaged students and those with SEND where adaptations are made to help with accessibility of content studied. All students participate in music lessons and are able to access the curriculum fully.
Department Information:
Peripatetic Music lessons
Instrumental lessons are currently available through Trafford music service in the following instruments:
Piano
Voice
Electric/Acoustic Guitar
Brass (Trumpet, Tenor horn, Trombone etc.)
Drum Kit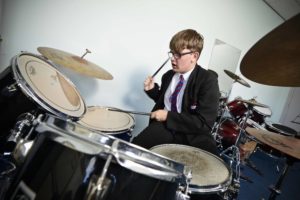 Facilities:
20 x Yamaha Keyboards
2 Music Practice Rooms
Guitars
Acoustic and electric Drum Kits
Brass Instruments
Class set of Djembes
Classroom Percussion
Ukuleles