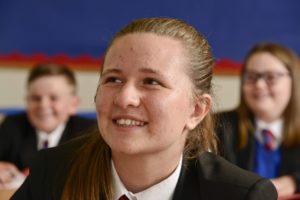 Introduction to homework
Home Learning adds another year of education. Research has shown that over the 5 years of secondary school, students can add another year's worth of learning if they maximise on home learning opportunities set across Key Stage 3 and 4. This is why we take home learning seriously as it offers students a real chance to enhance what happens in the classroom.
We expect all St Antony's students to establish good learning routines and to take home learning opportunities seriously by completing tasks on time and to a good standard.  In the previous academic year, we introduced a new system to tackle non-completion of home learning.  The pupils and parents were supportive of this and the new system was successful in significantly improving completion rates and the quality of home learning.
Currently, KS4 students (Year 10 and Year 11) are given home learning detentions if they fail to meet a deadline or fail to complete homework to a satisfactory standard.  During this detention they are expected to complete the work set and catch up on any other work.  They are given support to do this in order to ensure that no student falls behind.  There are plans to roll out this system whole school during the 2021/ 2022 academic year.
Home learning is monitored throughout the academic year and is communicated to parents through data drop reports.  If students fall below our expectations, interventions are put in place to support the student with getting back on track with their learning outside the classroom.
We believe that home learning is a crucial part of the student's learning journey and success in this area will help them to achieve the best academic results that they can.
We know that home learning:
Involves parents/carers and keep them informed about the learning of students
Helps with personal skills, such as time-planning
Develops students' capacity to cope with independent learning, so important for the demands of GCSE, consolidating classroom learning
Prepares students effectively for the routines needed for successful study and revision for GCSEs
Our main way to set and monitor home learning is through ShowMyHomework (SMHW), operated by SatchelOne. Teachers set homework, with details of a task and a deadline, monitor its submission and then update a gradebook, which can be seen by all those who can access account details. For learners and their parents/carers, a free app is available to be used on home devices. The SMHW system helps learners and their parents/carers know what exactly needs doing for which subject and teacher, improve time-management and personal organisation by using the deadlines to manage workload and monitor the outcomes of homework once it has been submitted. It is also possible to message staff on SMHW if assistance is needed over a homework task.
Support with revision homework
Most students try to revise in the wrong ways, ones that are proven to be the least helpful. So, we've been working with KS4, and now KS3, at helping students to have a better understanding of how the brain stores information effectively and methods that students might use to help them remember what they need to know for tests and examinations. There are a series of videos that they have had shared with them in form time – but they are also shared here so that students can access them again:
Remote Learning Spring 2022
Aim
Our aim is to make learning experiences at this time as accessible and as effective as possible.
Access
We have systematically monitored students' access to devices and the internet in case of the need for remote learning. If an issue with device or internet access has occurred since this was checked with students at the very start of the Spring 2022 term, then please contact Mr Haughton, who supports the Pastoral Leaders, on j.haughton@st-antonys.com to notify him. Please note that learning on Teams can be accessed as a free app on a mobile phone and you can also access it on an X-box and PS4 /5 – you only need a keyboard and mouse. Please look at the Helpful Documents section for guidance on accessing learning via Xbox or PS4/5.
Accessing Learning (individual Covid-related cases)
Parents and carers are responsible for communicating with school the time-scale of a Covid-related absence and whether a student is well enough to receive work. Staff will be informed via the class register who is absent from school in a Covid-related absence. Curriculum learning for the term can be found at the end of this section of the website and it is very likely that this work will use e resources, such as Oak Academy or BBC Bitesize links. Students should email staff any queries that they have about work and should also look out for emails to their school email account from teachers, in case there is some specific learning that a student needs to do, should they be well enough.
Accessing Teams (whole class learning)
Learning when a whole class or cohort are working from home is delivered via outlook.com and student email accounts. Once students are into their email account, they can use the 9 dot icon top left to get them to Teams. Students in KS3 have been using Teams regularly for their learning in Computer Science, and so should be confident with accessing Teams and all year groups, except Y7, have used learning via Teams in the past. We audited who might need extra help with accessing Teams at the start of the Spring term 2022. Please reach Mr Fearn (m.fearn@st-antonys.com) if there is any uncertainty about accessing learning in Teams. Please look also at the Helpful Documents section here for more guidance.
Learning on Teams will be set for 8am each day at the latest to help students to plan their day. There will always be some resources relevant to the lesson posted in the chat, if a student is unable to make the live lesson.
Learning on Teams (whole class learning)
Each subject area has a Team (or class group).
The first thing students should do each day is check their calendar. This will usually have the format:
Live Lesson + Subject (this indicates that the lesson is 'live' and students need to Join the meeting/lesson, done easily through the Teams Calendar)
Or occasionally, for example for KS3 or Core PE:
Assignment + Subject (this indicates that the learning is not 'live' and that students should look in the Team for an Assignment)
We will listen to feedback and will adjust our offer if Remote Learning takes place over an extended time, but for the present time, students can expect to have live lessons for most of their learning should there be a need to do learning from home on a wide scale.
To access a live lesson, students can click join via the calendar in Teams. For an Assignment, students need to check a Team (class) to see the Assignment Learning set by the teacher. Some Assignments require a task to be completed in an interactive way and submitted back to the teacher. If home technology does not allow this, students can write responses, take a photo and submit it to their teacher instead.
Staff should plan work that is accessible for all those in their classes. Please communicate with the teacher if work needs more differentiation.
All staff emails are on the website here.
Learning engagement (whole class learning)
Registers are taken for all lessons at KS4 and KS3 as staff can see who has attended a live lesson and who has viewed an assignment. If you need us to know about any issues that might impact access to remote learning, please inform school. Parents are encouraged to contact the individual subject teacher if they have any concerns over their child's engagement, using the email addresses in the link above.
Reading
If students have completed learning or need a change of focus for the day, we strongly recommend that students support their long-term educational and employment chances, and their wellbeing, by reading as much as possible. All students have logins to read at home with Bedrock Learning. Please see the school website for lots of other ideas, including free e books – found under the Learning Tab, Literacy.
Satchel One 
Please see the following parental videos which will help you navigate your way around the Satchel One system.
https://help.satchelone.com/en/articles/5472656-parent-video-guides
https://help.satchelone.com/en/articles/2912165-logging-in-as-a-parent
Spring Term Learning
Topics and resources are available for all departments as follows: