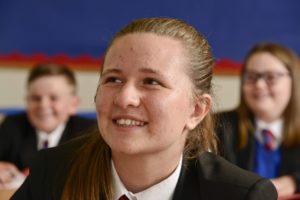 Introduction to homework
Home Learning adds another year of education. Research has shown that over the 5 years of secondary school, students can add another year's worth of learning if they maximise on home learning opportunities set across Key Stage 3 and 4. This is why we take home learning seriously as it offers students a real chance to enhance what happens in the classroom.
We expect all St Antony's students to establish good learning routines and to take home learning opportunities seriously by completing tasks on time and to a good standard.  In the previous academic year, we introduced a new system to tackle non-completion of home learning.  The pupils and parents were supportive of this and the new system was successful in significantly improving completion rates and the quality of home learning.
Currently, KS4 students (Year 10 and Year 11) are given home learning detentions if they fail to meet a deadline or fail to complete homework to a satisfactory standard.  During this detention they are expected to complete the work set and catch up on any other work.  They are given support to do this in order to ensure that no student falls behind.  There are plans to roll out this system whole school during the 2021/ 2022 academic year.
Home learning is monitored throughout the academic year and is communicated to parents through data drop reports.  If students fall below our expectations, interventions are put in place to support the student with getting back on track with their learning outside the classroom.
We believe that home learning is a crucial part of the student's learning journey and success in this area will help them to achieve the best academic results that they can.
We know that home learning:
Involves parents/carers and keep them informed about the learning of students
Helps with personal skills, such as time-planning
Develops students' capacity to cope with independent learning, so important for the demands of GCSE, consolidating classroom learning
Prepares students effectively for the routines needed for successful study and revision for GCSEs
Our main way to set and monitor home learning is through ShowMyHomework (SMHW), operated by SatchelOne. Teachers set homework, with details of a task and a deadline, monitor its submission and then update a gradebook, which can be seen by all those who can access account details. For learners and their parents/carers, a free app is available to be used on home devices. The SMHW system helps learners and their parents/carers know what exactly needs doing for which subject and teacher, improve time-management and personal organisation by using the deadlines to manage workload and monitor the outcomes of homework once it has been submitted. It is also possible to message staff on SMHW if assistance is needed over a homework task.
Support with revision homework
Most students try to revise in the wrong ways, ones that are proven to be the least helpful. So, we've been working with KS4, and now KS3, at helping students to have a better understanding of how the brain stores information effectively and methods that students might use to help them remember what they need to know for tests and examinations. There are a series of videos that they have had shared with them in form time – but they are also shared here so that students can access them again: