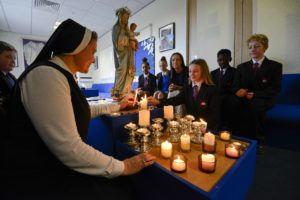 Chaplaincy
Chaplaincy is at the heart of the St Antony's community and underpins the daily life of everyone within the school, who we are and what we do.
We believe that we all have a part to play in making the world a better place and this is exemplified in our mission statement, let the light and splendour of Christ shine from within us all.
Chaplaincy at St Antony's support this mission by supporting colleagues with collective worship and giving all members of the school community the opportunity to reflect upon and engage with the Church's liturgical year
Prayer and Worship
Prayer is at the heart of our faith and of our school day. Each morning all students will take part in an act of collective worship either with their form tutor or in assembly with their Head of Year or member of senior leadership. This gives our school community a strong sense of identity, a chance to reflect on different points in the liturgical calendar and on how we can put our faith into action within our school and wider community.
Prayer also provides the opportunity to give thanks for what we have and what we receive from each other; students also pray before lunch and at the end of the school day.
Three times a year we are delighted to take the whole school community to St Hugh of Lincoln Roman Catholic Church where we celebrate holy mass. During the year we also host a number of priests who support with our Day of Reconciliation and each year group has the opportunity to participate in a Retreat bi-annually.
Praying with the staff
Collective worship during the school day is such a big part of who we are and what we do. There are times when we are not all able to get together to pray and so the staff would like to share their favourite prayers with you. Which is your favourite?
Mrs Wright praying the Serenity Prayer
https://www.youtube.com/watch?v=eWcnSI40sb8
Mr Giblin praying the Prayer of St Richard of Chichester with Mrs Galbraith praying Angel of God.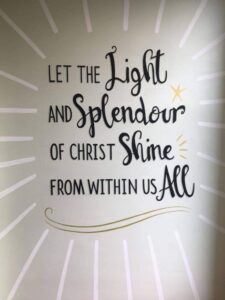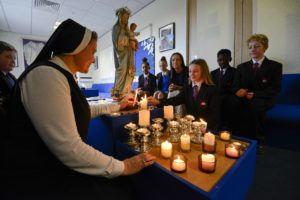 Form Saints
As part of the college's pastoral structure, students are organised into 5 form groups named after inspirational Catholic Saints. They are:
A - St Arrowsmith
B - St Barlow
C - St Clitheroe
M - St Moore
W -  St Ward
Our Padua Centre is named after our own Patron Saint, St Antony. St Antony taught us that actions speak louder than words as shown in the mural located outside our Chapel.
Faith in Action
Advent and Lent are times in the Church's calendar when we focus on giving to others in our local and worldwide community who need support. We follow the message of Jesus who asked us to "Love on another as I have loved you".
At Advent as a school community we support a local homeless charity, Cornerstones, donating items such as food, toiletries and clothes. At Lent we focus our fundraising on supporting Caritas through St Joseph's Penny.
Numerous other charities are supported throughout the year. Of particular note is the project work by members of the St Antony's family who annually support and visit a school in a very disadvantaged area of Romania.
We are delighted that St Anthony's pupils were able to contribute with the art work, which helps to make the following Caritas Stations of the Cross particularly personal to Salford Diocese.
Stations 1-5 https://www.youtube.com/watch?v=2UUi0zHIGWU
Stations 6-10 https://www.youtube.com/watch?v=vodabhHE9C0
Stations 11-15 https://www.youtube.com/watch?v=eHqLSQ1cfqc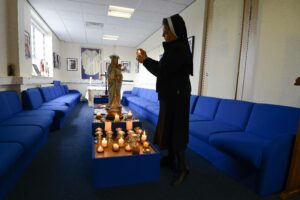 Sister Linda
We are very privileged to have a Chaplain, Sister Linda (of the congregation of the Daughters of Divine Charity). She is often supported in her work by Sister Anna. Both are wonderful , welcoming members of the school community frequently seen playing basketball at break or dancing to Jerusalema with the students at lunchtime. They work alongside a group of student chaplains who will be looking to lead aspects of chaplaincy within the school community.
Our Chapel
Our Chapel plays an incredibly important part in school life at St Antony's. Small group prayer and liturgies take place here as does weekly staff morning worship.