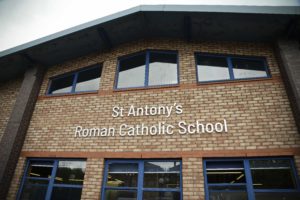 How to apply
Admission to Year 7 Cohort - September 2023 intake
Parents should have completed and returned The Common Preference Form to Trafford by 31st October 2022, along with a Baptismal Certificate or equivalent.
The allocation of secondary school places, on 'National Offer Day', occurs on 1st March 2023. If parents are allocated St Antony's they should return the acceptance form to Trafford by 15th March 2023. Parents should use the guidance on the offer letter and Trafford admissions website for what steps to take, including if they are offered another school but wish to be considered for St Antony's.
For further information please see the Trafford website here.
In-year applications (admissions to Years 7-11)
The Governing Body, as the admission authority, determines the school's admission policy and arrangements and is responsible for taking decisions on applications for admission. The Governing Body works with Trafford Local Authority in order to ensure admissions are co-ordinated across the area.
Requests for In-Year Admissions should be made via the parent portal on the council website www.trafford.gov.uk/admissions .
If parents experience problems accessing the parent portal please contact the team at Trafford Admissions 0161 912 5007 or alternatively email: school.admissions@trafford.gov.uk