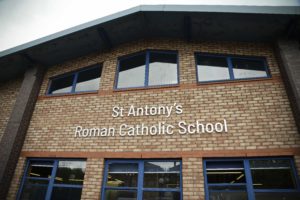 How to apply and appeal
Apply for admission to Year 7 Cohort - September 2024 intake
Parents should have completed and returned The Common Preference Form to Trafford by 31st October 2023, along with a Roman Catholic Baptismal Certificate or equivalent forwarded directly to St Antony's.
The allocation of secondary school places, on 'National Offer Day', occurs on 1st March 2024. If parents are allocated St Antony's they should return the acceptance form to Trafford by 15th March 2024. Parents should use the guidance on the offer letter and Trafford admissions website for what steps to take, including if they are offered another school but wish to be considered for St Antony's.
For further information please see the Trafford website here.
Appeals for Y7 September Intake
Where there is no place available at St Antony's, Trafford  Council will write and advise you of the allocation of another school and can inform you of the availability of places at other schools.
You have the right to ask to go on a waiting list for St Antony's and you also have the right to appeal against admission decisions for admittance to St Antony's in Year 7, September 2024 intake. A guidance booklet can be found here: Appeals guidance
The appeal schedule and process can be found here: Y7 Appeals schedule
To receive free, independent advice on the admissions and appeals process parents can call the Children's Legal Centre on 0845 345 4345 or visit www.childrenslegalcentre.com
The decisions of an independent appeals panel are binding on the admission authority and the parents/carers.