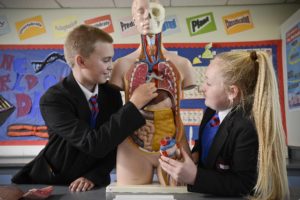 Mission and Intent
When constructing the curriculum, we remain conscious of our faith ethos and strive hard to ensure that all pupils have the opportunities to be the best that they can be, making the best progression that they can, both academically and personally. The foundations for this can be found in our School Mission Statement:
'Let the light and splendour of Christ, shine from within us all'
The Content of our Curriculum
Please find below information about the content of St Antony's curriculum, for each subject for each year group:
Our Curriculum Offer
Currently at KS4 we offer GCSEs or other Level 2 qualifications (such as Cambridge Nationals) in:
English Language
English Literature
Maths
Science
RE
History
Geography
French
Computer Science
Music
Art
Resistant Materials
Food Technology
Graphics
PE
Business
Please contact the relevant curriculum leader for further information; teachers' names can be obtained from the Meet the Staff page.
Or for broader curriculum questions, please reach Mr Giblin, Curriculum team lead, on p.giblin@st-antonys.com.