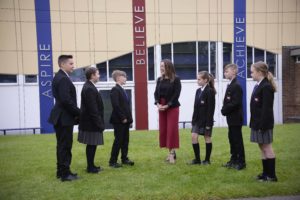 Appeals - entry to year 7
Where there is no place available at St Antony's, Trafford  Council will write and advise you of the availability of places at other schools. You have the right to ask to go on a waiting list for St Antony's, and you also have the right to appeal against all admission decisions. An Independent Appeals Panel has been set up specifically for this purpose. Contact the Democratic Services Section at Trafford, on 0161 912 4221/2798 to request an Appeal Form.
To receive free, independent advice on the admissions and appeals process parents can call the Children's Legal Centre on 0845 345 4345 or visit www.childrenslegalcentre.com
The decisions of an independent appeals panel are binding on the admission authority and the parents/carers.
Appeals - in-year admissions
When an application is unsuccessful you have an automatic right of appeal and this should be lodged with the school stating clearly the reasons for the appeal. Appeals must be heard within 30 school days of receipt of the appeal letter.