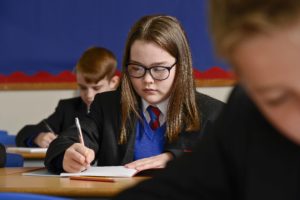 Departmental Intent:
The overarching aim for English in the national and school curriculum is to promote high standards of language and literacy by equipping pupils with a strong command of the spoken and written word. We hope to develop their love of literature through widespread reading for enjoyment.
The national curriculum for English aims to ensure that all pupils:
read easily, fluently and with good understanding
develop the habit of reading widely and often, for both pleasure and information
acquire a wide vocabulary, an understanding of grammar and knowledge of linguistic
conventions for reading, writing and spoken language
appreciate our rich and varied literary heritage
write clearly, accurately and coherently, adapting their language and style in and for a range of contexts, purposes and audiences
use discussion in order to learn; they should be able to elaborate and explain clearly
their understanding and ideas
are competent in the arts of speaking and listening, making formal presentations,
demonstrating to others and participating in debate.
Our curriculum is broad and balanced, and challenging, and the texts we study offer a wide range of viewpoints. Students read and study complex and whole texts, and they also experience a range of genres. The range of literature we study also provides students with insights into a variety of cultures and gives them a global perspective, as well as perspectives across history.
We read a fantastic range of texts with our students across KS3, including Skulduggery Pleasant, My Swordhand is Singing and Treasure Island in Year 7, A Christmas Carol, Romeo and Juliet, and Noughts + Crosses in Year 8, and then Animal Farm and Julius Caesar in Year 9. At KS4, our set texts are Macbeth, The Strange Case of Dr Jekyll and Mr Hyde, and An Inspector Calls. We also study Power and Conflict poetry (all with the exam board AQA).
The English curriculum overview for 2023-2024 is here:
The KS4 course specification for English Language can be found here: https://www.aqa.org.uk/subjects/english/gcse/english-language-8700/specification-at-a-glance
The KS4 course specification for English Literature can be found here: AQA | GCSE | English Literature | Specification at a glance